---
The halfway point in any season is a time for review and a chance to reset goals for the next 12 weeks.
A change of coach but still the same old problems remain with the Wests Tigers: CONSISTENCY!
Position after 13 rounds: 12 
Wins: 5
Losses: 7
Byes: 1
Points: 12
Differential: -46
Flag odds: $67
A number of heavy losses has coach Michael Maguire questioning is the current list good enough to win a premiership moving forward, the short answer would suggest no. The Wests Tigers have been defeated by 16 points or larger on six occasions, their worst against the Parramatta Eels in round 6, a thrashing of 51-6.
Best Win: Round 5 vs Brisbane Broncos @ Suncorp: 16-22
Worst Defeat: Round 6 vs Parramatta Eels @ Bankwest Stadium: 51-6
Best Player: Alex Twal
Biggest Disappointment: Russel Packer
Under-rated: Corey Thompson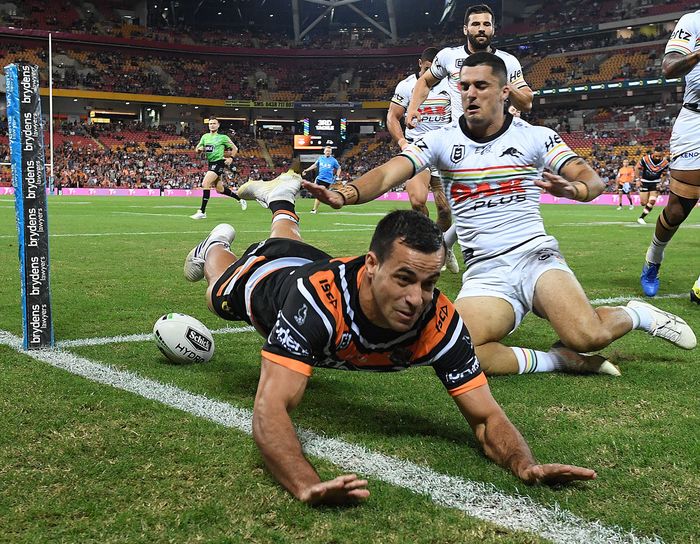 Things can only get better. And with Michael Maguire at the helm, things are already looking up. This season is one of frustration for fans, but Maguire will use the remaining rounds to get a clear picture of who he has at the club and which players fit with his rugby league philosophy.
THE RUN HOME
Round 14: Cowboys (A)
Round 15: Rabbitohs (H)
Round 16: Roosters (H)
Round 17: Eels (H)
Round 18: Raiders (A)
Round 19: Knights (A)
Round 20: Cowboys (H)
Round 21: Bulldogs (A)
Round 22: Sea Eagles (A)
Round 23: Knights (H)
Round 24: Dragons (A)
Round 25: Sharks (H)
The next month of football is critical for the Wests Tigers and will define their 2019 finals hopes. They will take on the Cowboys up in Townsville, then return to face two top four sides in the Rabbitohs and Roosters. If they manage to snare a victory or possibly two out of those three matches then their final hopes will be very much alive. But, if they lose all three games and then have to face Parramatta again (wk 17), a team that dealt them their worst defeat in 2019, their season could very well be over.
The Wests Tigers need to close the gap between their best football and their worst and they need to close it fast, as the 2019 season will be over before they know it.
CONCLUSION
Attack Grade: C+
Defence Grade: D+
This team was always going to be considered a work in progress in 2019. They might not play finals football this year but by 2020 could be a the season where Maguire has his own players and structures set-up to move the Tigers up the ladder.